About Contemporary Log Homes, LLC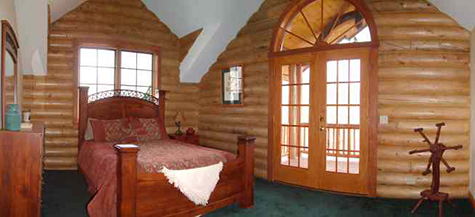 WHY CHOOSE US?
We are a small independently-owned company with distributors located in the Southwest and Northeast United States. We've been providing quality log homes to a long list of satisfied customers since 1978. They would be happy to share with you their success stories with our organization and how we helped them realize their dream of owning a custom log home.
Because we are small, we can provide you with service that is personal and sincere – people you can trust when making decisions about your investment in a log home. The staff who helps you with choosing and designing your log home will be the same staff who'll draw your plans, pass them through building requirements, order and check your materials, and provide on-site assistance with the initial construction of your log home.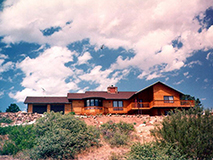 TALK TO CONTEMPORARY LOG HOMES
When you're ready to realize your dream…when you've decided to take the next step yet still have questions that need answered…it's time to talk to the folks at Contemporary Log Homes. We can help make your dream come true.
Our staff will answer all your questions, assist you with plan design, navigate with you through the building and construction phases and more than likely save you money in the process! No double-talk or smoke and mirrors, straight forward answers you'll understand
CREATIVE AND INNOVATIVE PLAN DESIGN
With our sister company, Design Professionals, Contemporary Log Homes has been and continues to be one of the leading log home designers and material providers in the country, specializing in unique, creative and innovative design of log homes and structures.
Offering full architectural services, we can custom draw plans from your specifications and design. Alternatively, choose from our standard plans or peruse through literally thousands of plans stored in our office.
UNPARALLELED COMMITMENT TO SERVICE
The strength of our company rests in our service commitment, striving for complete and total satisfaction of each client; past, present and future. We'll be there to assist from design through all phases of construction. For more than 30 years, we've assisted our clients in realizing their dream of owning their own log home. With this primary focus on service, our company is staffed to:
assist in choosing and designing your log home.
draw your plans.
pass plans through building requirements.
order and check your materials.
offer on-site assistance with the initial construction of your home.
We can explain the many benefits of owning a log home; clarify issues regarding log homes versus conventional construction; and in general, help you with your first step towards log home ownership.
Reliable Solid Products
Our material packages include a mix of high quality, graded Lodge Pole Pine and Douglas Fir. Utilizing an unclaimed natural resource, our logs are harvested from dead standing timber and have dried on the stump naturally.
As opposed to their kiln dried counterparts, our logs have a much lower moisture content which minimizes post construction shrinkage.
Dead standing timber is a very cost effective product. With Contemporary Log Homes you deal directly with the provider, eliminating any costs or fees associated with a distributor or middle-man. Ultimately, our log homes are a better value and simply cost less.
In our standard Lodge-Pole Pine log we have the following sizes available: 7″, 8″, 9″, 10″ and 12″.
Redwood & Cedar as well as other wood species are available.
Easy Construction
Many people choose to build or help build their own log home because log construction is readily understood by the layman (one log laid on top of another). We provide you with the information in our construction manual on how to "do-it-yourself". Not only is this an attractive option for the handyman, but can greatly reduce the total cost of the building.
Our method of wall construction includes provisions for 1/2-inch threaded rods bolted at 3-ft. intervals continuous to the top of the wall in all exterior walls. Coupled with structural adhesive between each log course our log homes are exceptionally strong buildings.
Milling Options
Our standard packages include 7″ diameter logs with a Swedish Cope milling option. Over the years we've found the Swedish Cope has proven to be our most popular log style. Additionally, this type of joinery will retain a solid seal as well as minimize misalignment or movement of the logs during and after construction.
Available upon request, milling options include:
Smooth, round, double tongue and grooved.
Smooth, D-Shaped, double tongue and grooved.
Natural, pre-fitted and hand-hewn.
Partially Pre-Cut Logs
Our logs are lathed to the proper diameter and given a Swedish Cope for fitting at the mill prior to shipping. All corner logs are notched for a perfect corner fit. After delivery to your site, the log will require some on-site end (butt) cutting by the crew as well as all dimensional lumber.
Build Green – Heat & Cool Using Less Energy
Solid log walls offer excellent resistance to the passage of heat. In fact, solid logs actually absorb heat and retain it. This is due to the cellular structure of logs. We use pine or spruce which contains millions of insulating air spaces created from the evaporation of sap and moisture in the drying of the logs. Because of the insulated air spaces, your home is refreshingly cool in the summer and easily heated in the winter.
A 28-week test was conducted by the National Bureau of Standards to determine the effects of thermal mass (the insulating effect of air trapped within a log) on a building's energy consumption. The tests, conducted in Washington, D.C. used six different homes, identical except for the exterior walls.
The research team found the log structure walls "…did exhibit a thermal mass effect and thus save significant amounts of energy….both in the summer cooling season and the intermediate heating season."
Solid log walls are natural insulators, store heat and don't lose their coolness as quickly as frame construction. The natural R-value factors of the logs combined with thermal mass creates an insulation barrier that's warmer in cold weather and cooler in hot, clearly representing an energy-conserving feature in residential construction. Another plus for the solid wood homes: The R-factor (resistance to heat transfer through a material) of wood does not decrease as the material ages.
Aesthetics
Log Homes are beautiful homes, unique and down to earth – offering a cozy and rustic curb appeal. The fact is, log homes are versatile, adaptable and sturdy.
Best of all, log homes are QUALITY homes.
The workmanship and durability along with low maintenance costs help log homes keep their resale value.
Log homes become more beautiful with age. Keeping this in mind, building a log home can become a profitable investment.
Standard Plans
Our standard plans cover a wide range in style and size, all with our unique signature for original perspective and floor plan efficiency. These plans are complete and available immediately with your signed contract and deposit.
With your material package purchase, you'll receive five (5) copies of your log home construction plans for your use in obtaining building permits, construction estimates and/or financing. Additional sets are available, as required, for a small fee.
Ultimately, most clients request some form of modification to our standard plans…which can range from simple movement of interior walls, to re-sizing and expanding additions. We'll gladly revise any plan to your specification, however, in these cases it may take additional time to deliver the plans depending on the extent of the revisions requested. Interior plan revisions not affecting the structure are generally offered at no additional charge.
In the event client revisions require extensive modifications or the movement of structural walls, some fees could apply. Architectural fee estimates are provided for approval prior to any actual drawing begins. We will however, apply 50% of those fees toward your purchase of a Contemporary Log Home material package.