Staining and Sealing Log Home Exteriors
The best application guidelines are going to be those supplied by the stain manufacturer, after all, they developed the formulation. Therefore, acquire application instructions from the stain manufacturers and follow them.
If you are hiring the work done, make the application instructions available to your painter.
Remember these 5 rules for best application: clean wood, sound wood, warm wood, dry wood, textured wood.
To avoid lap marks, it is always a good practice to work horizontally until you reach a natural break in the wall surface, i.e. log butt joints, windows, doors, etc.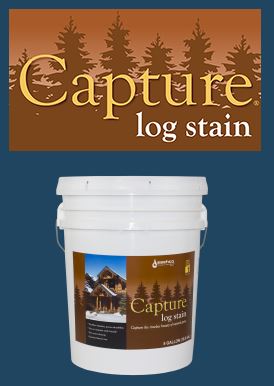 EXTERIOR FINISHING
Nature is beautiful – but harsh. So, Capture Log Stain is specifically designed to protect your home against weather conditions and exposure.
Capture Log Stain's unequaled formula allows the coating to move freely as the logs inevitably expand and contract (as moisture escapes and temperatures change), which means no peeling, flaking or chalking-just a beautiful coating that really lasts!
Capture Log Stain is an elastic coating that stretches with log movement. This flexibility permits the bridging of small cracks in the surface of the wood and provides an elastic shield for underlying wood.
Sashco's Capture is the pigmented part of a 2 part system: an extremely effective, attractive stain, followed by a clear, weather-repellent topcoat called Cascade.
Cascade provides additional exterior protection against discoloration caused by mildew and damaging UV light. It dries clear with a modest sheen and adds depth to the appearance of stained logs.
You choose your logs for their unique and rustic beauty. So why hide it? Use one of Capture Log Stain's ten beautifully transparent shades and see your logs come alive as every knot, grain and detail is enhanced.
Transformation Stain – Siding & Trim
Wood siding can be beautiful, but it usually screams "high maintenance." Get Transformation Stain® Siding and Trim and give your ears the silence they deserve.
Based on a stain formula that was originally created to withstand the extreme requirements of log homes, Transformation Stain® Siding and Trim wood siding stain is no stranger to high performance. It moves and flexes with the wood to maintain a protective coat that remains beautiful over time.
The best part is that Transformation Siding and Trim won't peel, which makes maintenance easy: a light power wash, followed by another coat of stain, and you're done.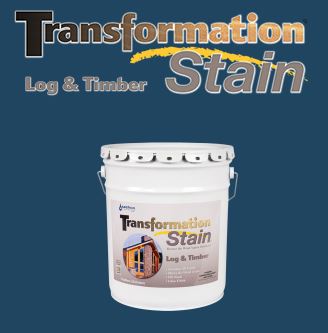 Transformation Stain – Log & Timber
Sun burned, grayed out logs and timbers don't evoke feelings of inspiration and accomplishment like a dream home should. Transformation Stain® Log and Timber is the premium log stain you need to restore your log home and the dreams that go with it.
Its exquisite color portfolio and glossy finish showcase the unique character of your logs and timbers. It's specifically formulated to be chemically compatible with even the most difficult stains and coatings, making it the go-to product for even the toughest restoration jobs.
Transformation Log and Timber log cabin stain will truly transform your home, resulting in a dream come true that you can't wait to show off to your (distant) neighbors.
Interior Finishing
It's music to your eyes. When applied to bare or stained wood, Symphony enhances the natural grain of your logs by creating the illusion of depth.
The clear, no-yellowing formula allows the natural color of wood to shine through. It's water-based, completely VOC compliant, has no offensive odor and can be easily applied by spray.
(Symphony is available in 1 and 5 gallon containers.) Symphony, gloss or satin, is the beautiful way to protect the natural elegance of interior logs.