The Timbers 

– 

2.342 sq. ft. (

Signature Series

)
"A Tour Through The Timbers Rustic Style Home"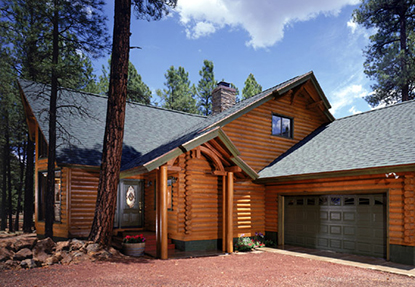 A rustic feel matures from the copper tension rod in the timber arch at the entry porch to the home's vaulted wood ceilings and the heavy timber second-floor structure.
The large covered porch with its log posts and heavy timber butterfly arch is a fabulous place for both entertaining and outside dining.
The rear porch, off the kitchen, is an intimate place for morning coffee and breakfast for two. The two guest bedrooms downstairs were strategically arranged for privacy and accessibility to the guest bath, laundry, and garage.
Ascending the stairway reveals a comfortable refined elegance you experience with the view of the living room and the copper and stone main fireplace. The dining area boasts a large bay window providing a seamless meld between indoor and outdoor living.
The living room, dining room and kitchen layout allows for an open living style and still retains privacy between each room and its function.
This feeling is further enhanced once you enter the Master Bedroom and discover the stone and copper see-through fireplace revealing the master bath and a jacuzzi tub beyond. The rustic and the refined elegance are two contrasting elements that work well together.
Continuing on through the master bedroom to the private entry into the studio. This room features an efficient use of the space above the two car garage and creates an excellent home office or guest quarters with its own bath, small kitchenette and exterior balcony entrance.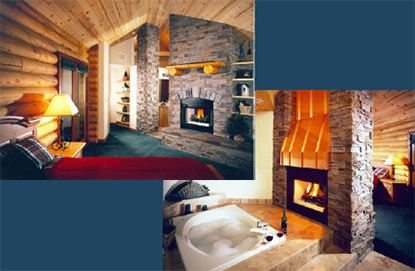 Whether on vacation or not, once you experience this home you'll not want to leave.
The Timbers was constructed as our Western Region model home located in Pinetop, AZ and is available for viewing by appointment.
Serving as our Western Region model home, The Timbers is designed with an emphasis on elegant vacation living. This model has a casual atmosphere throughout with finishes and architectural detailing that excite the visual palate.
For a complete printer-friendly model brochure, including the FLOOR PLANS and MATERIAL LIST, download this PDF.
To view the pricing of this beautiful Signature Series log home, visit our model pricing page located here.